Where does the mind stop and the rest of the world begin?
This is the central question that shapes "The Artfully Extended Mind," an Honors College course taught by Assistant Professor Phillip Bimstein, in collaboration with faculty from diverse disciplines across the University of Utah, including many from the College of Fine Arts, as well as exceptional artists from the wider community.
The course was first inspired after Bimstein read, "The Extended Mind: The Power of Thinking Outside the Brain," by Annie Murphy Paul, which inspired him to go on a journey with students to explore thinking outside the mind: in our bodies, surroundings, and through our relationships.
"The book draws upon neuroscience, psychology, philosophy… It's not an arts book, and it's not a mindfulness book," Bimstein explained. It led him to explore dozens of other writings from art and educational theorists: John Dewey, Rudolph Arnheim, David Abram, and Eliot Eisner, to name a few. Though these (and many other) readings are a jumping off point for the course, they are not the end game.
As the syllabus reads, "Based on recent research in psychology and cognitive science, we will think with our bodies, our surroundings and our relationships. You will extend your minds and develop your thinking facility in a series of presentations (architecture, game design and literary narrative) and experiential hands-on workshops (drawing, sculpture, music, songwriting, poetry, improvisational acting, vocal improvisation and composition, dance, movement, performance art, mindfulness practice, walking meditation and qigong). Orchestration of these artistic and cognitive experiences will develop your capacities to focus attention, resist distraction, develop verbal fluency and cognitive flexibility, enhance problem-solving and decision making abilities, and increase long-term memory for what is learned."
Last semester, four of these hands-on workshops were devised and facilitated by Fine Arts faculty members – a true embodiment of interdisciplinary education and discovery.
Arts workshops are often unfamiliar territory for Bimstein's students, a majority of whom are studying the sciences, medicine, engineering, or politics. But that didn't stop them from diving in.
"I want students who are rushing from a chemistry class, or rushing back to a biology class to have an experience. I hope they learn to stay broad, to stay wide."
In one standout experience, students gathered at the Utah Museum of Fine Arts with Molly Heller, Assistant Professor in the School of Dance. Heller guided the students through a series of movement explorations where they examined negative space, spatial relationships, holding space, and the effect of body proximity. Bimstein described how Heller built a new trust amongst participants by getting them on their feet and moving right away, without too much explanation.
Students were again on their feet and in their bodies for a workshop with Xan Johnson, Professor in Department of Theatre as well as in the Honors College. Bimstein was happily surprised to see students so responsive to Johnson's improvisational theatre prompts. By the end of the session, they seemed at home in devising scenarios and inventing dialogue.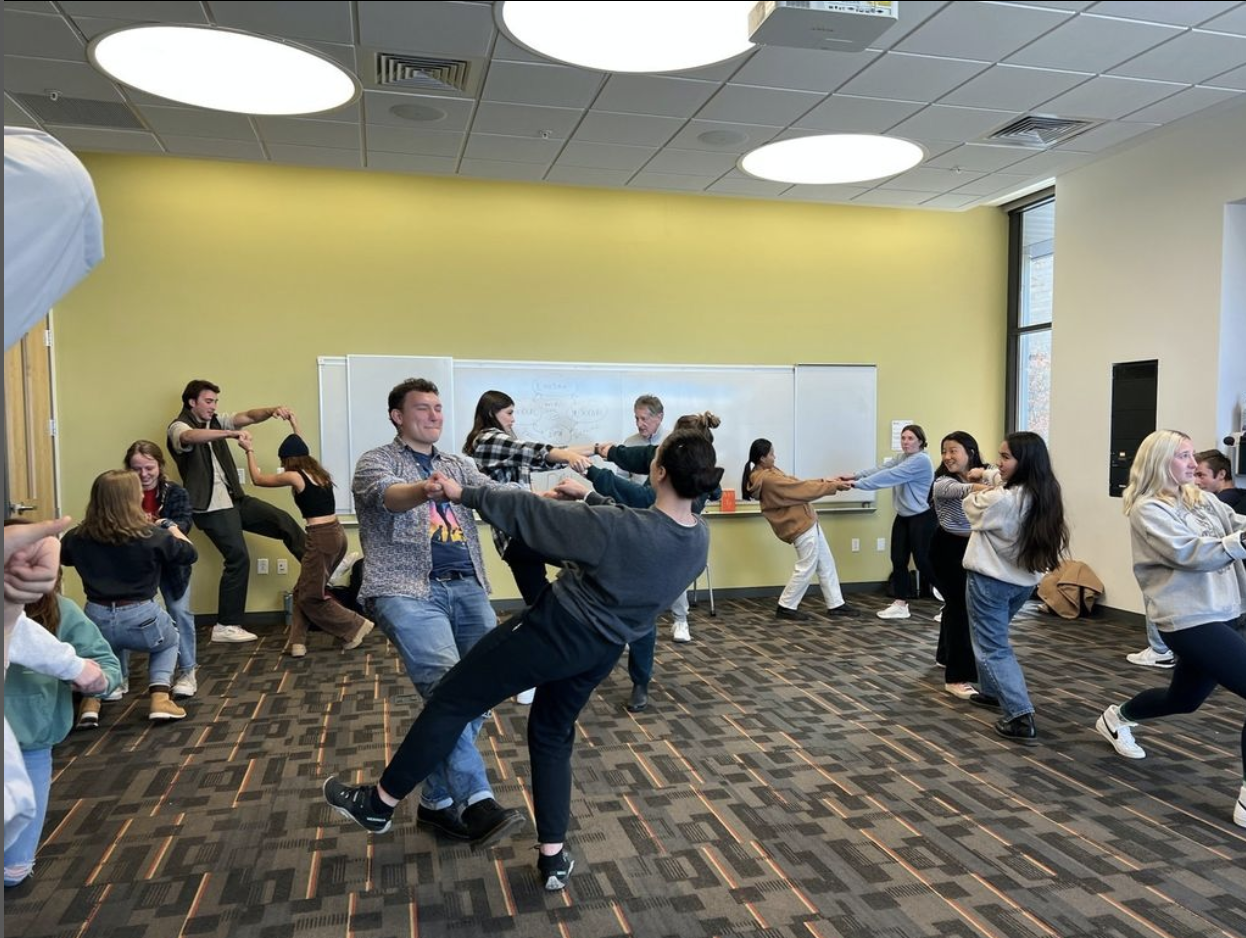 Xan Johnson workshop | photo courtesy Honors College

With Moses Williams, Assistant Professor in the Department of Art & Art History, students explored the possibilities of sculpture in the outdoor courtyard of the Architecture Center. "He had set up a big plastic sheet with a brick of clay, a bucket of blue salt, sand, and pebbles," Bimstein recalled. "He talked with the students about their relationship to nature, then allowed them to get into the material and just play without the aim of creating anything in particular. It made us all feel, including me, that we should work with clay more often."
Back at the UMFA, Art & Art History Assistant Professor Joshua Graham presented students with a new way to interact with the museum's art works. Once they had identified a piece of interest, they attempted to draw its details on paper without looking. Eliminating continual self-monitoring and judgement, students could more fully experience the moment.
Other experiences included mindfulness practice and vocalizations led by Bimstein, who is a composer and certified mindfulness teacher. Wanting to help students "not just cognate, but experience," Bimstein always incorporates meditation in his courses.
"In the Honors College, we are about educating the whole human being. So much of education has been driven to silos, and the focus is on getting the degree, getting the education that leads to the career," Bimstein explained. "I am not in that mold. I want students who are rushing from a chemistry class, or rushing back to a biology class to have an experience. I hope they learn to stay broad, to stay wide."
All of Bimstein's courses stem from a long-held belief in the power of interdisciplinary study. "Composing Community" grew out of his experience serving two terms as mayor of Springdale and looks at looks at relationships between music, dialogue, and community representation. "Radical Quiet," currently in spring session, proposes, explores, and develops quiet and slow ways of living as vital alternatives to fast-paced modes of modern society.
He said: "I tell them on the first day of class that the root word of education is educe which is to draw forth. So much of our education seems to be about putting things into you: facts, theories, etc. But the root word is to pull things out. Just allowing yourself to be yourself."
For students, "The Artfully Extended Mind" has lasting meaning.
"As someone who is studying the arts but is often tucked away in a lab, I have personally seen how commonly 'unartistic' fields and artistic ones rely heavily on the same kind of thinking," said student Alyssa Curtis. "From this class, I have started to actively create visual abstractions that represent what I have learned in all of my subjects, specifically genetics. Whenever I am faced with complicated experiments, difficult concepts, or convoluted verbiage I grab my drawing pad and try to break these apart through art as best as I can. This ability to artistically present what I know and scarcely know has enhanced my ability to retain information significantly. The activities we have done in class have promoted my ability to work with others and improvise with them in an empathetic and progressive manner."
Fellow student Maya Watanabe reflected, "These workshops have helped us build a class community based on empathy and kindness, making it easier for all of us to venture out of our comfort zones and try something new. By exploring many different art forms and concepts that combine art and the positive mindsets it can bring about, I now have a wider, extended view on what art means to me and society as a whole."